Lawn tractors
Choose a product with wider wheels and a powerful engine for a hilly or sloping ground. Our pendulous suspended cutting deck is excellent for larger and uneven lawn areas as it can easily adapt to the ground.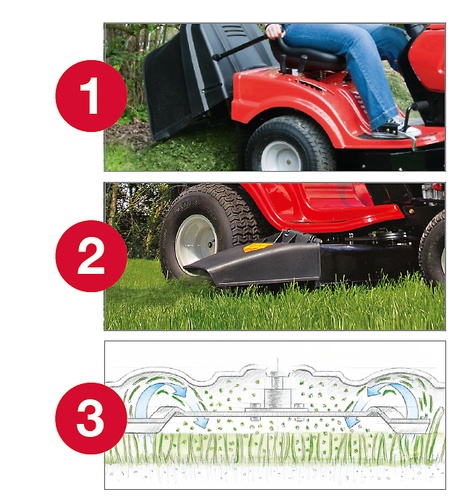 Bagging
To achieve a perfect look, the grass clippings can be bagged and composted separately. On all models with rear discharge, the grass catcher can be emptied comfortably from the driver's seat.
Discharge
The clippings can be discharged with the aid of a deflector. This is particularly recommendable when the grass can be left on the ground.
Mulching
Mulching has the advantage that the soil is fertilised with the grass clippings. In this way the clippings with their nutrients can ideally be used as natural fertiliser. Mulching is recommendable in the dry summer months to prevent the lawn from drying out. Almost all models can be equipped with an additional mulching kit.
Showing 1 to 2 of 2 (1 Pages)